Evento completo
International conference + summer school
Digital Survey in Religious Architecture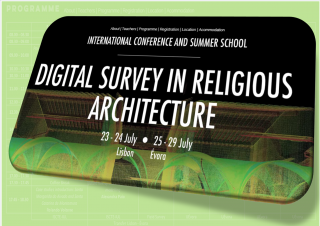 International conference + summer school
Digital Survey in Religious Architecture  
[23rd – 29th July 2018]
23rd -24th July - ISCTE-IUL, Lisbon, PT.
25th -29th July - UÉvora, Évora, PT.
Mission & Objectives
The aim of the course is to provide participants with the knowledge and skills needed to conduct digital surveys in religious heritage sites through theoretical classes and practical activities. Based on real case studies, each participant will experience the entire process of 3d survey using the relevant equipment and technology: the field survey, data processing, rendering, interpretation and final presentation of the work. Participants will be guided by experienced tutors in all process stages.
The real case studies are 2 monasteries located in Alentejo region, about one hour away from Lisbon and situated around the UNESCO Heritage Site city of Évora.
​These monasteries were part of the Congregation of Saint Paul of Serra de Ossa (Ossa Mountain), which was founded in 1482, originated by an important eremitic movement called Homens da Pobre Vida (poor life men), documented since 1366. The community of hermits expanded up to the first half of the 15th century, mostly in southern Portugal in the Alentejo region. In 1578, following a process of institutionalization led by the Church, an autonomous congregation was set up, affiliated in the Hungarian Order of Saint Paul the First Hermit, until 1834, when the decree of dissolution of the religious orders disbanded all the convents and monasteries in Portugal.
Recipients
Advanced graduate or PhD student, post-doc, junior researcher in the fields of architecture, archaeology and engineering as well as professionals in the fields of Cultural Heritage and Historic Preservation, who are interested in obtaining fundamental knowledge and skills in survey methodology.
Maximum number of participants: 20
During the school the participants will be divided in groups, each group will be followed and conducted by a tutor. Participants are required to bring a personal laptop and a digital camera.
The summer school will be conducted in English, so participants should have a good command of the language.
Organization Committee
Alexandra Paio (DINÂMIA'CET-IUL; ISTAR-IUL)
João Luís Inglês Fontes (IEM - NOVA FCSH; CEHR-UCP)
José Saldanha (DINÂMIA'CET-IUL)
Luís Mateus (CIAUD-UL)
Paula André (DINÂMIA'CET-IUL)
Paulo Simões Rodrigues (CHAIA – UÉvora)
Rolando Volzone (DINÂMIA'CET-IUL)
Stefano Bertocci (DIDA – UNIFI)
Fees
Early Bird fee (Until 31st May)
Students: 150€
Non students: 250€
​Late Fee
Students: 200€
Non students: 300€
 - 2,5 ECTS
- International conference;
- 1 coffee break;
- 4 masterclasses;
- transports from Lisbon to Évora;
- transports to the case study area;
- 1 lunch in a regional restaurant;
- final presentation
Info Request: arquitecturasdaalma@gmail.com
Registration
1 – Sign up at https://sge.uevora.pt  (a confirmation email will be sent to you in order to complete your registration)
2 – Login at https://sge.uevora.pt and then go to https://sge.uevora.pt/eventos/ver/484
3 – On the right side of the page choose "Register"
4 – After registration choose "Confirm Registration"
5 – After confirming your registration, select the option "Confirm Payment" and you will be asked for your billing details and the uploading of your proof of payment.
More information
https://www.dinamiacet.iscte-iul.pt/arquiteturas-da-alma-2018
Facebook
https://www.facebook.com/events/218472742234908/
Voltar à listagem