Evento completo
[Call 2.14]. Call for papers [CHAIA.PEP]
THE GARDEN AS A LAB WHERE ECOLOGICAL AND CULTURAL SYSTEMS MEET IN THE MEDITERRANEAN CONTEXT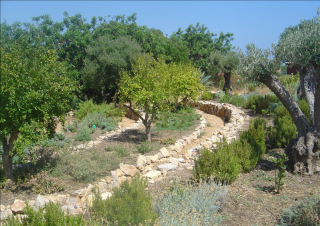 University of Évora
Centro de História da Arte
e Investigação Artística
Évora (Portugal)
31 October 2014
Venue:
Colégio do Espírito Santo
(University of Évora)
The Centre of Art History and Artistic Research (CHAIA) of the University of Évora will organize the interdisciplinary International Conference "THE GARDEN AS A LAB WHERE ECOLOGICAL AND CULTURAL SYSTEMS MEET IN THE MEDITERRANEAN CONTEXT" in Évora (31 October 2014) under which runs this call for submission of articles.
Landscape is a cultural and ecological reality, thus the lack of an approach which gathers both components has endangered landscapes identity. This conference seeks to find and provide new solutions of ecological and cultural significance for Mediterranean landscapes which can be found in vernacular and more recent traditional rural landscape in the Iberian Peninsula. The garden created at Hapimag in Algarve stands out as an example of a garden inspired by Mediterranean landscape, but also as a lab for plants acclimatization to South Iberian Peninsula and creation of ecological design. The aim of this international conference is to gather experts of different disciplines, different nationalities and different ideas to discuss new solutions for ecological landscapes which could and should be experimented in a smaller scale.
We will privilege comparative and transdisciplinary approaches and case-studies on the Mediterranean basin. Potential contributors are invited to submit a 300 word abstract on themes related to any of the following conference tracks:
Cultural and ecological Mediterranean landscape
Ecological landscape history of Mediterranean rural areas
Ecological landscape design and planning
Ecology, landscape preservation and environment protection
Ecological garden design
Papers and panels on the above themes are invited. However, papers/panels on other subjects related to the above topics will also be considered.
Participants will be held to a twenty minute presentation limit. There is a possibility of budget for flights and hotels for foreign participants.
Working Languages for oral communications, as well as for abstracts submission and biographical note can be Portuguese, English, Spanish, French and Italian. Nevertheless, papers for publication can only be due in English for conference proceedings with ISBN. No translation will be provided.
Please submit an abstract of 300 word or a full paper and a bio note (with 150 words maximum) by September 1, 2014, to: chaiaconferences@gmail.com
To insure prompt notification, please include your name, institutional filiations, paper title and e-mail address on your submission.
Workshop Schedule:

 

Submission of abstracts: deadline

1 September 2014

Acceptance deadline

30 September 2014

Final program

08 October

Conference

31 October 2014
Coordination

 

Advisory Committee

 

 

Ana Duarte Rodrigues

Aurora Carapinha

Alexandre Cancela d'Abreu

Ana Duarte Rodrigues

Aurora Carapinha

Conceição Freire

Desidério Baptista

Rute sousa Matos
Voltar à listagem