Evento completo
XMEDIA ARTS 2016
1ª Conferência Internacional de Artes Sociais e Transdisciplinares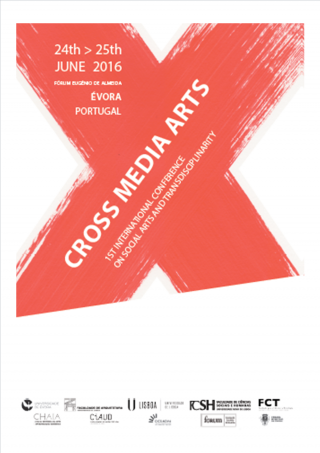 1ST INTERNATIONAL CONFERENCE ON
SOCIAL ARTS AND TRANSDISCIPLINARITY

ÉVORA / PORTUGAL

24th > 25th JUNE 2016 
XMEDIA ARTS aims to reflect on artistic disciplines involving social practice and their respective transdisciplinarity. 
How have multiple artistic practices, designed to benefit the larger society, like those of the Russian Constructivists in the early twentieth century or the Environmental and Feminist art movements in the sixties, developed synergies among themselves and other areas of knowledge? Within this context, the concepts of multidisciplinarity, interdisciplinarity and transdisciplinarity have evolved, in which the social theme and the main goals of the respective artistic practices are more important then any disciplinary boundary.

Although the vanguards of the second half of the twentieth century have reused such early century avant-garde strategies, they go beyond the earlier models by developing related critical theory. This type of artistic practice includes collaboration between creators and disciplines, as well as involving public participation. Thus, the exclusive authorship of the artist is decentralized and a new status is established in which public attitude changes from passive, as a mere observers of an artistic work, to participatory.

This expansion of artistic production to include a public dimension also triggers a variety of theories and practices that deepen the inherent citizenship of the artist. As a result, a relationship between the ethics and aesthetics in such practices contributes to the emergence of an artistic culture focused on producing multiple forms of social innovation.

XMEDIA ARTS presentations will come from various fields of art including architecture, visual arts, design, theater, dance and music, as well as multimedia and audiovisual media. Presenters are experts from a wide variety of national and international academic institutions, as well as from relevant cultural organizations. Although the conference main themes are - sustainability, contextuality, minorities and citizenry - its knowledge knows no bounds. Therefore, artists and researchers are invited to present their work in one of these subjects or any combination of these.

This conference will be advertised through a variety of media at all higher education institutions in Portugal and internationally. As foreign presenters return to their home institutions we hope that an international diffusion of ideas presented at the conference will result. To further that aim XMEDIA ARTS will document on video all presentations, discussions, among other events, as well as create a digital journal of the conference proceedings. Every document will be accessible for online consultation.
REGISTRATION
AUTHORS REGISTRATION DEADLINE
May 31st [Early Bird]
June 19th [Regular Fee]

EARLY BIRD
Until May 31st 

AUTHORS
Student/ Unemployed/ Underemployed/
From Low-Income Countries 60,00€
Regular - 120,00€

REGULAR FEE
Until June 19th

AUTHORS
Student/ Unemployed/ Underemployed/
From Low-Income Countries 70,00€
Regular - 140,00€

GENERAL PUBLIC
Subject to seat availability/
No registration needed

One day 20,00€
Two days 30,00€


PAYMENT
To be announced

Full information: http://xmediarts.net/
1ST INTERNATIONAL CONFERENCE ON SOCIAL ARTS AND TRANSDISCIPLINARITY
ÉVORA / PORTUGAL
24th > 25th JUNE 2016
Voltar à listagem